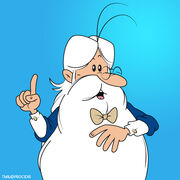 Maestro is a wise old man. The eternal sage, he usually knows what to say and has bright ideas. He can probably solve any problem or conflict. He has the wisdom of ages and he is the children's favorite storyteller.

He has played at least seven roles in various stories.
ONCE UPON A TIME...LIFE:
He serves as the Nucleus Manager in a some cells and serves as the Doctor in the episodes that have the Sick human scenes(Such as the Leukemia in the Bone marrow episode)
ONCE UPON A TIME...PLANET EARTH:
He serves as the Oldest man sitting on the chair at their base and he also Answers questions from his Allies/Friends.
Other art
Edit