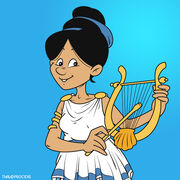 Psi is Pierrot's girlfriend or wife in many stories. She is vivacious curious and well prepared. She usually helps Peter when he's in a tight spot.
She has portrayed at least six roles including:

barefoot girl
blanket girl
harp girl
space girl
hat girl
pigtails girl
Psi is in every series, except the first installment, "Once upon a Time… Man".
Other art
Edit