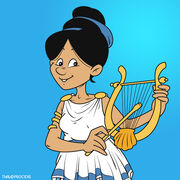 Psi is Pierrot's girlfriend or wife in many stories. She is vivacious curious and well prepared. She usually helps Peter when he's in a tight spot.
She has portrayed at least six roles including:

barefoot girl
blanket girl
harp girl
space girl
hat girl
pigtails girl
Psi is in every series, except the first installment, "Once upon a Time… Man".
Other art
Edit
Ad blocker interference detected!
Wikia is a free-to-use site that makes money from advertising. We have a modified experience for viewers using ad blockers

Wikia is not accessible if you've made further modifications. Remove the custom ad blocker rule(s) and the page will load as expected.